The best college and NFL punters in the game have trained with Ray Guy Prokicker.com
What our NFL alumni are saying:
"Ray Guy's name is synonymous with great punting. You listen to a guy like that and you learn from him."
—SHANE LECHLER
Houston Texans – 7-time NFL Pro Bowler– Best career gross punting average in NFL history (47.5) includes 51.1 average (2009) & 50.8 average (2011)

"It's not just a camp where you come in and kick some balls around. They really take the time and instruct you on the important aspects of punting. It was huge for me to go to these camps and have people that were knowledgeable teaching me."
—KEVIN HUBER
Career-best 46.8 per punt average in 2014 earning Pro Bowl with Cincinnati Bengals
"The knowledge that both Rick Sang and Ray Guy provide to each individual person is the fine tuning that is needed to help achieve success. Through the years that I have known both of these men, they have helped lay the groundwork for me in which I used to have success through college and in the NFL."
—BRANDON FIELDS
Miami Dolphins – NFL best 50.2 season punting average in 2012 – Pro Bowl -2013
"Ray Guy and Rick Sang provide crucial information for the special teams player, no matter what skill level. They have developed numerous specialists at every level of the game including high school, college and the NFL. Not only do they teach the technical skills, they teach the much needed mental skills that will give every athlete a competitive advantage."
—BOB LIGASHESKY
Former Special Teams Coach, Pittsburgh Steelers, Super Bowl XLIII champions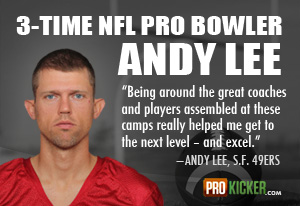 "My personal experience was as a student and then as an instructor. I attended my first camp as a sophomore in college and it really helped me turn the corner in my career. Getting to work personally with Ray Guy and Rick Sang – and being around the great coaches and players they assembled – really helped me get to the next level – and excel." 
–ANDY LEE
Arizona Cardinals – 3 time Pro Bowl – 4 time All-Pro
NFL Best 50.9 season punting average in 2011
NFL record for Net Season average (44.0) and punts inside the 20 (42).
---
Alumni / former staff in the NFL:
Andy Lee – Arizona Cardinals
Donnie Jones – Philadelphia Eagles
Shane Lechler – Houston Texans
Sam Martin – Detroit Lions
Kevin Huber – Cincinnati Bengals
Drew Butler – Pittsburgh Steelers
Jeff Locke – Minnesota Vikings
Kasey Redfern — Detroit Lions
Jordan Berry – Pittsburgh Steelers
Bradley Pinion – San Francisco 49ers
Trevor Daniel – Houston Texans